About 13 Percent Say Spending Legislation Was Unnecessary
ST. LEO – A new survey of Florida adults by the Saint Leo University Polling Institute (http.polls.saintleo.edu) shows that 65 percent of those polled are glad that millions of dollars are being spent on better security and safeguards for the state's 4,200 K-12 public schools, but people also want more safety improvements for students and school employees.
The Florida Legislature acted in its Spring 2018 session to approve the spending following the February shooting deaths of 17 people at a high school in Parkland, outside Miami. New additions such as more secure doors and on-site security guards were evident—with some variance from one district or school to another—as students reported back to classes between August 10 and August 20. As Florida is the home state of Saint Leo University and the Saint Leo University Polling Institute, administrators included the school safety issue in the most recent survey on state political topics.
There were 500 respondents to the survey, with people answering from August 10 through
Specifically, respondents answered this question, with the results shown in the table.
            In March 2018, the Florida governor signed a $400 million bill designed to increase school security, mental health access, and gun control following the shooting at Marjory Stoneman Douglas High School that killed 17 people. The bill was designed to harden schools such as better locking systems, bullet-resistant glass and other technologies designed to stop violence before it starts. Which one of the following best reflects your own view on this newly enacted legislation?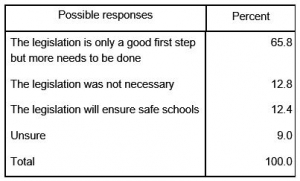 Saint Leo University Polling Institute Director Frank Orlando said he is not surprised that a majority want more steps taken to protect schools. "The prevailing message from respondents is that schools can never be too safe. As these measures are enacted, it will be interesting to see what residents feel is effective and what needs to be improved," he said. Orlando added that he is also curious to see "if this effect is long lasting as we move further away in time from Parkland in February."

About the Poll
METHODOLOGY: The poll sampled opinions of 500 Florida respondents. The survey was conducted August 10 through August 16, 2018. All surveys were conducted using an online survey instrument. The poll has a +/- 4.5 percent margin of error at a 95 percent confidence level (on a composite basis) with questions asked of all 500.
To attain a representative view of the electorate, the sample included 172 Republican voters and 188 Democratic voters. The balance were unaffiliated, belong to another party, or were unsure of their current party status.
The Saint Leo University Polling Institute conducts its surveys using cutting-edge online methodology, which is rapidly transforming the field of survey research. The sample is drawn from large online panels, which allow for random selections that reflect accurate cross sections of all demographic groups. Online methodology has the additional advantage of allowing participants to respond to the survey at a time, place, and speed that is convenient to them, which may result in more thoughtful answers. The Saint Leo University Polling Institute develops the questionnaires, administers the surveys, and conducts analysis of the results. Panel participants typically receive a token incentive—usually $1 deposited into an iTunes or Amazon account—for their participation.
The Saint Leo University Polling Institute survey results about national and Florida politics, public policy issues, Pope Francis' popularity, and other topics, can also be found here: http://polls.saintleo.edu. You can also follow the institute on Twitter @saintleopolls.
Media contacts: Jo-Ann Johnston, Saint Leo University, University Communications jo-ann.johnston@saintleo.edu or (352) 588-8237 or (352) 467-0843 (cell/text).
Mary McCoy, Saint Leo University, University Communications mary.mccoy02@saintleo.edu or (352) 588-7118 or (813) 610-8416 (cell/text).
More About Saint Leo University
Saint Leo University (www.saintleo.edu) is a modern Catholic teaching university that is firmly grounded in the liberal arts tradition and the timeless Benedictine wisdom that seeks balanced growth of mind, body, and spirit. The Saint Leo University of today is a private, nonprofit institution that creates hospitable learning communities wherever students want to be or need to be, whether that is a campus classroom, a web-based environment, an employer's worksite, a military base, or an office park. Saint Leo welcomes people of all faiths and of no religious affiliation, and encourages learners of all generations. The university is committed to providing educational opportunities to the nation's armed forces, veterans, and their families. Saint Leo is regionally accredited to award degrees ranging from the associate to the doctorate, and the faculty and staff guide all students to develop their capacities for critical thinking, moral reflection, and lifelong learning and leadership.
The university remains the faithful steward of the beautiful lakeside University Campus in the Tampa Bay region of Florida, where its founding monks created the first Catholic college in the state in 1889. Serving more than 13,000 students, Saint Leo has expanded to downtown Tampa, to other sites in Florida and beyond, and maintains a physical presence in seven states. The university provides highly respected online learning programs to students nationally and internationally. More than 90,000 alumni reside in all 50 states, in Washington, DC, in three U.S. territories, and in 76 countries.