SAINT LEO, FL – A new national poll by the Saint Leo University Polling Institute shows the popularity of Pope Francis continues to increase and one in five Americans are aware of his new book.
Nationally, 68.4 percent of the 1,015 adult respondents view him favorably and among Catholics, 88.1 percent. Also, about one in five Americans are aware of his new book, the first published since he became pontiff. His new work, The Name of God is Mercy, may be contributing to his approval rating. The book was published in January.
"The fact that among Catholics nationally, the pope's current favorable opinion is higher now (88.1 percent) than it was in December 2015 (84.5 percent in Saint Leo's December poll) could very well be due to the release of his new book," said Dr. Marc Pugliese, Saint Leo assistant professor of theology and religion.
Some people say they are reading the book in groups at their churches or book clubs. "I'm not surprised that so many people have said they are or will be reading the pope's book, and that there are so many who will be reading the book in groups," Pugliese said. "Pope Francis seems to connect with people—and not just Catholics—in ways that other recent popes might not have. When I was in Philadelphia for the pope's visit there, I passed a Presbyterian church that had a sign saying it is a 'Pope Francis Church' and that they were studying the pope's environmental encyclical."
Pugliese read the book and found it inspirational, and of potential interest to a broad range of Americans. It "contains themes that would resonate with both conservatives and liberals," he said.
Saint Leo's poll analysis examined the responses by various demographic groups. For instance, 64.2 percent of Republican respondents said they have a favorable opinion of Pope Francis while 79.9 percent of Democrats said the same. And the pope's appeal was spread evenly among age groups with 66.9 percent of those 18 to 35 years old, 67.5 percent of those 36 to 55 years old, and 70.6 percent of those who are age 56 and older, saying they have a favorable opinion of the pontiff.
"There seemed to be little fallout from U.S. Republican presidential candidate Donald Trump's spat with Pope Francis after the pope's negative comments during his recent visit to Mexico about Trump's idea of the United States building a wall at the countries' border," said Dr. Michael Anthony Novak, Saint Leo University assistant professor of theology and religion. "While the pope's approval numbers remain constant among Democrats in the upper 70s, his numbers with Republicans fluctuate a little more [from previous polls]."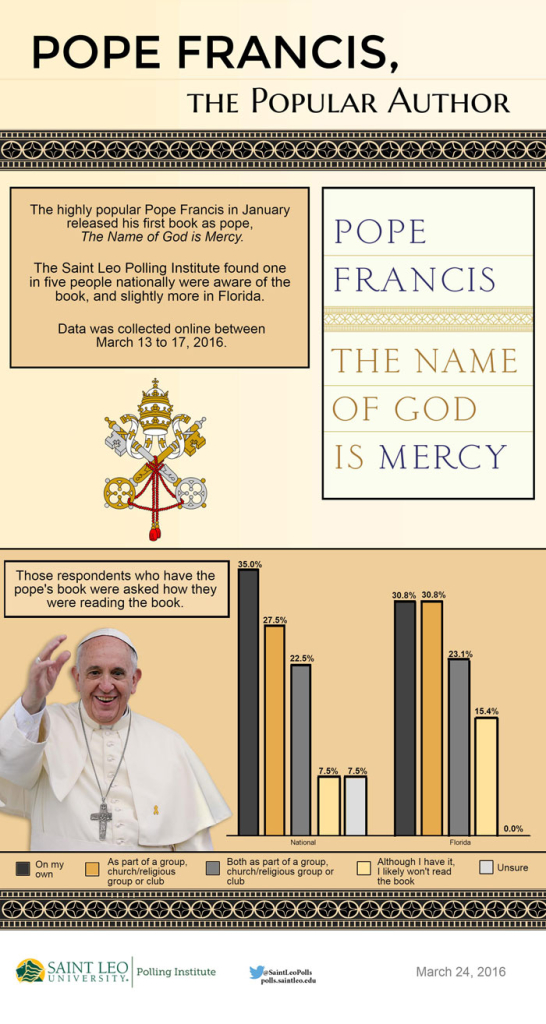 Media contacts:
Jo-Ann Johnston, Saint Leo University, University Communications jo-ann.johnston@saintleo.edu or (352) 588-8237 or (352) 467-0843 (cell/text)
Mary McCoy, Saint Leo University, University Communications mary.mccoy02@saintleo.edu or (352) 588-7118 or (813) 610-8416 (cell/text)
About the survey
METHODOLOGY: The online poll sampled opinions of 1,015 nationwide, March 13 – 17, 2016. All surveys were conducted using an online survey instrument. The poll has a plus or minus 3 percent margin of error.
The Saint Leo University Polling Institute develops the questionnaires, administers the surveys, and conducts analysis of the results. Panel participants typically receive a token incentive—usually $1 dollar deposited into an iTunes or Amazon account—for their participation.
The Saint Leo University Polling Institute survey results about national and Florida politics, public policy issues, Pope Francis' popularity, and other topics, can be found here: http://polls.saintleo.edu. You can also follow the institute on Twitter @saintleopolls.
About Saint Leo University
Saint Leo University (www.saintleo.edu) is a regionally accredited, liberal-arts-based institution known for an inclusive Catholic heritage, enduring values, and a capacity for innovation. Saint Leo provides access to education to people of all faiths, emphasizing the Benedictine philosophy of balanced growth of mind, body, and spirit.
The university welcomes learners from all generations and backgrounds, from civilian occupations and the armed forces, and from across the country and more than 60 nations around the world. Saint Leo's nearly 16,000 undergraduate and graduate students may elect to study at the beautiful University Campus in Florida, at more than 40 teaching locations in seven states, or online from any location. The university's degree programs range from the associate to the doctorate.
Saint Leo University boasts nearly 80,000 alumni in all 50 states, Washington, DC, five U.S. territories, and 72 countries.